04.02.2011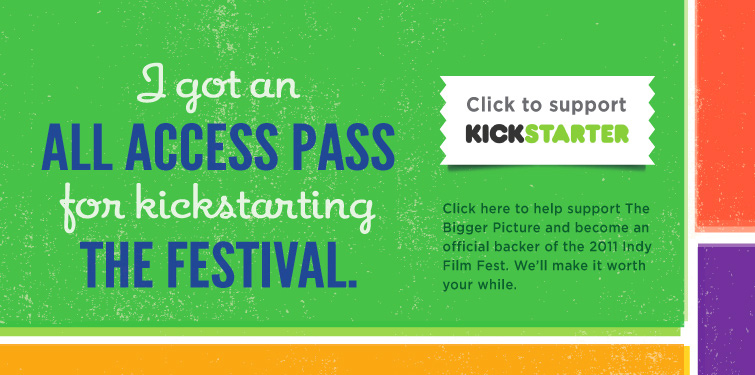 My Friday night consisted of frozen pizza, a 6 pack of beer and a stack of Indy Film Fest screeners. Our submissions have officially closed and we got the expected last minute rush of films. Between now and June when we announce our lineup for this summer's festival (July 14-24, 2011), I'll be watching and evaluating about 15 or so shorts and 4 full length feature films each week, in addition to my other duties as board member and marketing director. It ended up being the perfect way to end a very hectic week.
You see, Indy Film Fest is pretty much my cause in shining armor. I can't help but fully invest myself into it – I get to work with such stellar creative minds and dedicated volunteers. AND I get to help build something that can be enjoyed by so many, that adds to the vibrancy of our fair city.
Here's something not everyone knows – Indy Film Fest has zero paid staff (maybe one day!). We have a few dedicated partners and sponsors – particularly Lodge Design, Nuvo and the Indianapolis Museum of Art. If it weren't for these groups, and the generous gusto of our volunteers, the festival couldn't happen.
We wrote it into our vision. Deliciously scrappy, Highly focused. I pour my heart into the festival because I know that come middle of July we'll be able to put on this amazing shared experience around film that rivals any put on with full-time paid staff.
If you've been to the festival and liked what you saw, if you've scored passes into one of the many free advanced screenings we offer each year – please consider supporting Indy Film Fest.
Here's the way Kickstarter works. We've set a goal of $4,000. We have (now less than) 30 days to reach that goal. If we don't make it, we lose all of the pledges others have entered. It's a risk, but we had faith. When we looked at the numbers coming to our events, our interactions on various social networks and the rising attendance at the festival – we just knew we could pull it off. Kickstarter even links up with Amazon, so if you have an account, pledging is a very simple process.
At $50 and up, you become an official member of the fest, with all of the accompanying perks. For your pledge of $500, you earn a reserved seat in the theatre for the duration of the festival. How cool is that? See more of the perks listed out for each level here.
Maybe you've never been to the Indy Film Fest before. Then please consider a ten dollar date with the fest. For your $10 gift, we'll thank you with two tickets to any regular festival screening – a pretty risk-free investment if you ask me.
Become a backer of Indy Film Fest
Know you'll have an entire volunteer festival team who is thankful for your support.
And if you made it this far, thanks, from the bottom of my grateful heart.