A friend taught me to knit about a year ago, starting with an easy scarf pattern. I approached it with an open mind, not knowing if I'd keep up with it. As it turned out, it was instant love, but I had no idea what role yarn would play in my relationship with art.
At times knitting can be maddening. I often find I've lost myself in the rhythm of the stitches and forget which row of a pattern I'm supposed to knit next. One false move can create a franken-scarf. An attempt to knit a little bit faster can go awry – a stitch slips from the needle, unraveling for several rows before I take notice.
That first compliment from a random stranger on a hand made piece makes it all worth it. And knitters like to meet and work together, form tight communities. I get together each Sunday with a group of knitters, a perfect unwinding to the week.
Last winter while browsing at a home gift shop, I stumbled upon a book about knit graffiti, a small but growing movement known as yarn bombing. It was unlike anything I'd seen before. Outdoor, fiber art woven into the natural or urban world in very surprising ways. The book, Yarn Bombing: The Art of Crochet and Knit Graffiti by Mandy Moore and Leanne Prain , pictured everything from simple pieces of a single color to intricate multi-colored wraps covering large tree trunks. Some of these vast installations would take days of planning and knitting and multiple artists to put together. All to be put out into the world, not knowing if the piece will survive for a few hours or weeks.
Upon exiting the store, a strange thing happened. I spotted my first yarn bomb in the wild. On Massachusetts Avenue in Indianapolis, just outside Silver in the City gift shop, a trio of bike racks had been decorated with simple bands – one green, one pink, one purple. They were slouched down at the bottom of the racks, it would have been easy to miss them. Without knowing that this thing existed, I might not have. The book had heightened my awareness, allowing me to see them.
I was smitten. I loved that this small work by an unknown knitter could surprise and delight, causing a second look into everyday things. The bike rack otherwise would have blended into the cityscape.
The inspiration for my first yarn bomb came when my Sunday crew began planning a group knit project as a going-away present for the friend who founded our group. What do you knit for someone capable of knitting anything for herself? A tribute yarn bomb seemed like the perfect idea. We decided on knitting up a multi-colored moustache to adorn James Tyler's Brickhead 3. The giant head sculpture is in Davlan Park on the 400 block of Mass Ave, a few steps from my first yarn bomb sighting.
During the time we were knitting away at the individual hairs of the moustache, I discovered that Banksy, a popular street artist, had created an image of two elderly ladies sitting in armchairs, knitting. One has a piece in her lap that says "PUNK'S NOT DEAD," the other "THUG FOR LIFE." I think it is a fair guess that Banksy had no clue what kindred spirits he could find in knitting.
I went to see the Banksy film Exit Through the Gift Shop, a documentary following the work of Shepard Fairey, Thierry Geutta aka. Mr. Brainwash, Bansky and other street artists. As I watched, I couldn't help but relate to it in yarn. Consider Shepard Fairey's early work of putting images of 70s/80s wrestler Andre the Giant on stickers with the word OBEY. His goal with this work is to cause the same reaction I had when I found the yarn bomb the bike rack on Mass Ave.
Fairey wrote in his 1990 Manifesto, "The FIRST AIM OF PHENOMENOLOGY is to reawaken a sense of wonder about one's environment. The OBEY sticker attempts to stimulate curiosity and bring people to question both the sticker and their relationship with their surroundings. Because people are not used to seeing advertisements or propaganda for which the product or motive is not obvious, frequent and novel encounters with the sticker provoke thought and possible frustration, nevertheless revitalizing the viewer's perception and attention to detail." Just replace sticker, advertisement and propaganda with yarn.
In one scene from the Exit Through the Gift Shop, Thierry Guetta films people on the street reacting to a Banksy sculpture. He had taken a telephone booth into his studio, sawed it in half and welded it back together angled, put an axe through it, then delivered back onto the street. No surprise that this subversive, in your face art stopped people in their tracks.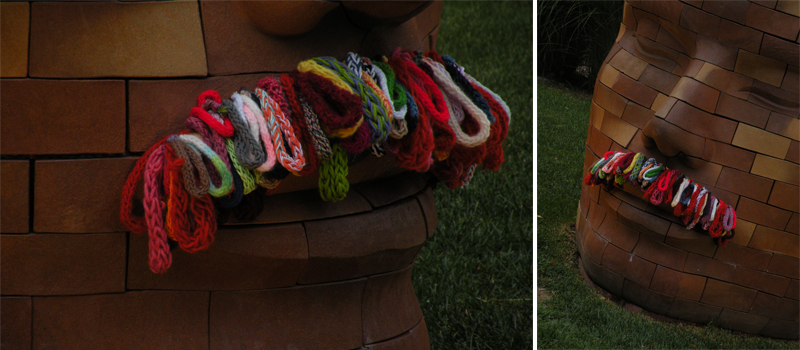 Much like Thierry with his lens on the phone booth, our group of knitters sat and watched reactions to our moustache installation. Brickhead 3, whom we affectionately renamed Burt (as in Reynolds), proved to be positively smile-inducing. People stopped to look, touch it, take pictures. I've made art before, but this was different. It was an amazing feeling, equal parts devious and proud, coupled with a deeper connection to my fellow yarn bombers.
All of this has me thinking of how we view and interact with art in the modern world. Upon visiting Cincinnati's Contemporary Art Center, I discovered photos were not allowed of Shepard Fairey's Supply and Demand exhibit (except his large installation in the lobby). At first I thought, doesn't this go against everything for which Fairey stands to not allow photographs? In their top floor, the CAC has an Unmuseum, where not only are photos allowed, but touching the art is encouraged.
Alternatively, as the wear and tear of being hyperconnected takes its toll, maybe it isn't so bad to force disconnection from devices to allow greater focus on the art. Would I have noticed my first yarn bomb on the bike rack if I'd been using my phone? It is a debate worth exploring, but I think the case for photos and allowing personal documenting wins out in the end.
On a recent trip to the Eiteljorg Museum in Indianapolis, I watched a young man flit from one object to the next, pausing just long enough to snap a quick photo. He was seeing the entire exhibit through the lens of his camera phone. Thinking of Burt and his moustache, watching people take snapshots, it was part of their enjoyment to be able to document it. One of our group members had a colleague change her profile picture to an image of her and the moustache, though she had no clue her coworker had taken part in its making. This is all a part of the way we absorb, engage in and share art. We take art from the museum display case, or its public location, into our own world at home and online. We create a permanent collection of experience on our facebook and flickr pages.
Burt's moustache has been removed by authorities, or possibly stolen (Moore and Prain say to take as a compliment). I was sad to see him go, but at least I have my photos and the heightened awareness of environment this whole experience opened up for me. Whether in a museum or out in the world, I'm trying to keep my eyes open for subversive yarn and other curiosities. Knowing that I might spot a Slinkachu installation or a yarn bomb has me looking at things a little more closely, on the lookout for unexpected art.
—-
More information:
Check out pictures of Burt and his moustache.
For more on yarnbombing, pictures of projects from around the world, see the Yarn Bombing blog.
See Nina Simon's thoughtful case for photography in museums.
This post was originally published on July 4th, 2010 on Sundayed.