12.15.2012
During college I worked at Barnes & Noble. I didn't intend to stay as long as I did. Nearly seven years in, I'd held 5 positions at 4 different stores in Evansville and Chicago. I had the chance to lead really diverse teams of booksellers and got loads of practice in hiring, interviewing, providing professional development and performance reviews, and building teams.
I loved many things about working there, including visual merchandising, hand-selling books, and the people side of human resources, though managing a book store was not my long term dream job. When it was time to move on, I got started with my first marketing gig at United Way, where I learned a lot about community building and digital marketing.
A couple of creative agencies later, and I'm just starting a new role that combines different bits from my past experience, including what I sometimes call my "accidental career" at Barnes & Noble. I had no idea how critical the things I learned there would be to my present day dream job.
I couldn't be more pleased to take on the new role of Chief Culture Officer at SmallBox, where I've been working as a marketing strategist for the past couple of years.
In true SmallBox form, the job is mine to shape over time, but it includes a mix of marketing, business development, human resources and, of course, focusing on our culture.
Our CEO Jeb Banner frequently says he's driven to design dream jobs for our team. In my case, mission accomplished.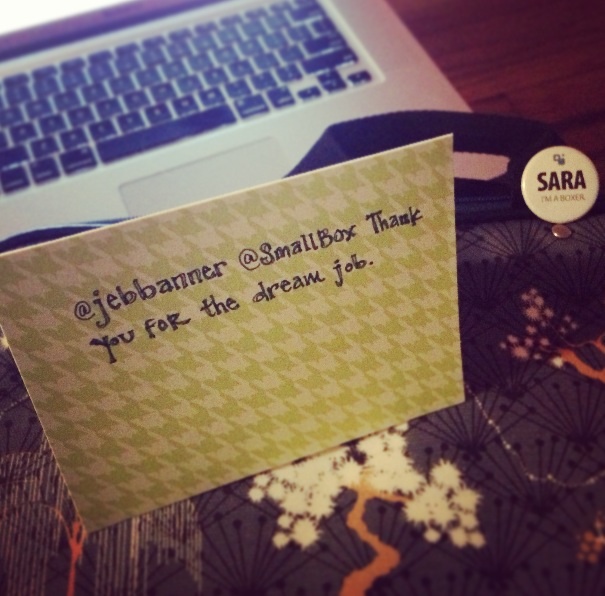 This post is part of Think Kit by SmallBox
Today's prompt: "Handwrite a tweet to a friend. What's it look like?"