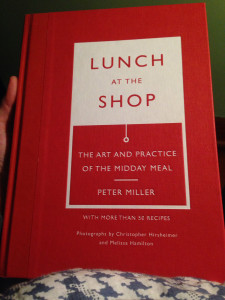 I'm the sort who typically eats lunch at my desk while I plow through email or other work. The idea of taking back the lunch hour always sounds so romantic, but in practice, I've failed at regularly celebrating lunch. Then I found Lunch at the Shop. I loved the subtitle: The art and practice of the midday meal.
This book, I hoped, might inspire me to have a mindful lunch here or there. As I read, it did far more than that. I wasn't joking when I said this book is my spirit animal. Beyond lunch, this is a fine example of obsessing over the details to create a great experience, as well as being an in-the-wild example of what SmallBox calls culture-powered marketing.
The foundation of culture-powered marketing is what we call the North Star, or your purpose and your values. An organization must first define, then embrace their own guiding principles. When a whole team is engaged by shared beliefs and behaviors, who you are and what you do suddenly begins to market your organization for you.
Here is a small-ish (from what I can tell) shop in Seattle, Peter Miller Architectural & Design Books and Supplies. They decided the rejuvenation provided by lunch-taking is worth making space for, and that it should be a shared experience for their team. Then they stuck with it. Seven years in, lunch is still a part of their rhythm. All standards and practices of the retail industry are set aside – the shop closes for lunch. In this case, the practice becomes much more than just eating. It's about togetherness and rest. It's become culturally relevant to them. Lunch says something about the shop and who they are.
Another piece of culture-powered marketing – it leads to things. Towards cultural institutions, which are celebrated or revered like holidays. Towards great content that shows what an organization believes in. In this case, lunch became a daily holiday, and it resulted in a 160-page book with their principles and habits for making food to share without a proper kitchen, and more than 50 recipes.
This book is for the sort of people who put their potato chips in a bowl rather than eating straight from the bag. For the ones who take extra care when plating up. If you have zero tendency to fuss over food, this will likely sounds pretentious or over the top. It's a window into the a world of being particular for the sake of making great experiences. If you need motivation to up your game, whether for lunch or something else, this is a wonderful playbook.
My first "lunch at the agency" wasn't too shabby. I made the recipe Lentils Folded into Yogurt, Spinach and Basil, complete with a sourdough wheat bread made by my co-worker Drew. Here's to many more lunches at the shop!