The polar vortex really got in the way of my marathon training this winter. The skipped training runs mounted. I failed at my first attempt at twenty miles, then my second. I'd managed a grueling 18.9-miler, but I knew it in my heart. I wouldn't have been prepared for a flat marathon, much less the Flying Pig in Cincinnati with its steep and plentiful hills. I wasn't ready.
In the days before the race, I waffled back and forth. I'd think, Maybe I should just try, one minute. No way in hell, the next. Some of my runner friends said a lot of people only train up to 18 miles, so I was basically already there. A very stubborn part of me just couldn't let go – I don't like giving in once I've set a goal.
The deciding factor came as a surprise. Louie offered to run with me. We don't run together much. His pace when he's pushing hard is a good three minutes faster per mile. I never expected him to throw a marathon to take it at my pace.
While I had resolved to attempt the whole thing, I also knew there'd be a fork in the road. The turn off where the half-marathoners go one way, and the full folks go another. I'd have this one out, if I felt like I needed it.
On race day, when we hit that point in the course, I was still feeling good. I made eye contact with a spectator, a woman who was cheering her heart out, encouraging me, this random stranger. As I took the path toward the full marathon, I welled up with emotion, feeling proud that I hadn't taken the easy way.
Then there was a brutal series of hills. Somewhere around mile 16, a steep hill completely shredded my legs. The reality of ten more miles to go punched me in the gut. My pace started dropping off. Louie moved into cheerleader mode, trying to keep me moving and motivated.
I was slow and achy between 16 and 22 miles, and stopped at every chance for water or Gatorade. The next four miles were a bit of a blur. I noticed my eyes felt heavy, the lids near closed. As I shuffled along (because you can't really call what I was doing running by that point), I was biting at a fingernail. I remember thinking:
Is my mind drifting? Am I losing it a little bit? Why am I biting my nails now, of all times?
I don't think I was really losing it, but I do think my body was in the early phase of shutting down.
As we got closer to the end, Louie grabbed my hand, squeezed it. It woke me up a bit. He said the finish line was near. I argued with him, No, I don't see it! During that last leg of the race, he didn't let go of my hand while we sort-of ran. I remember hearing a woman say, They're holding hands. I love it.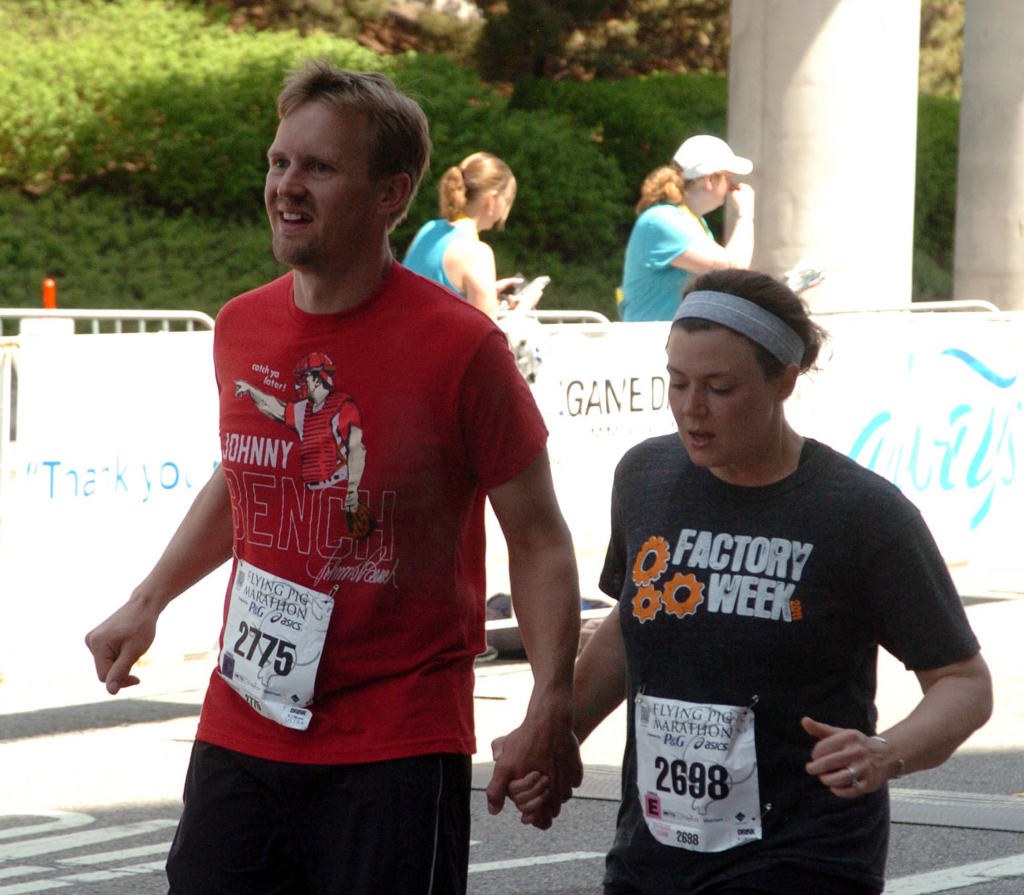 Crossing the finish line is always emotional, but this time it felt bigger. I felt carried, not by my own two feet, but by Louie's energy and love. His hand holding mine lifted me up. I know this is why I was able to finish.
After the race, we had a mile walk back to the car. I felt good. I can't explain how I went from on the brink, to being okay, just like that. I had to fly to California for business the next day. Despite a car trip back to Indy, a very early flight, all of the travel – I was fine. My muscles weren't even the slightest bit sore.
This post is part of Think Kit by SmallBox
Prompt: "+ / – Have no fear – no numbers needed here. Who (or what) made a difference for you this year? Were they cognizant of their effect? Did it add to your life…or detract? Was it a momentary encounter? A year-long helping hand? Someone who took a chance on you, or vice versa? What would've changed if you'd had to go without, or go it alone? Imagine the alternative scenario."