Of course it would have been raining the morning of my first 20-miler, and not just a little. Oh no, this was a steady drenching – the kind of rain that blows in sideways and seems to change directional slant now and then. I'd finished 18 miles two weeks before, but something about 20 seemed exponentially higher, intimidating, even without rain. I steeled myself, took the bright-side approach: if the weather was terrible on race day, this would serve as good practice.
I'm not a very experienced runner. A year and a half ago, I could barely run two miles. I decided I wanted to be the sort of person who ran two or three miles a few times a week. I had no grander ambition than that. To find myself 13 weeks into training for a marathon on a rainy October morning was a bit unexpected.
What does one wear for a somewhat chilly, rainy, crazy-long run? I opted for a tank top, thinking it'd be better to not have a drenched long-sleeved shirt weighing me down. I was much more worried about soaked shoes that would feel quadrupled in weight throughout the run. And the fact that my phone was tucked inside a pocket, where it might or might not stay dry (and operational). I really wanted to track this run to know how I did in each mile, so I decided to risk it.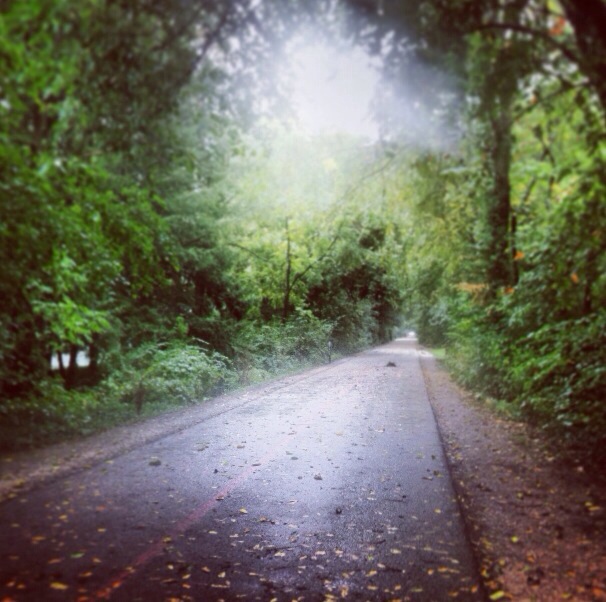 I set out on the Monon Trail wanting to keep near a 10:30 pace for the first ten miles, an 11 minute pace for the next five, and whatever necessary in the final five, so long as I finished. I pushed the rain out of my mind and found a nice rhythm. I didn't count the miles or pay attention to pace. I just went into a running zone – a clear mind, a body in motion/auto-pilot. It was such an occasion that exemplifies why I fell hard for running.
At one point, I got a 20-30 minute reprieve from heavy rain. I began to feel half-dried everywhere except for my feet. It didn't last – the rain came back and re-soaked me from head to toe. My fingers pruned. With each step, water squished out of my shoes. As I hit 18.7 miles, I couldn't think of anything except the rain and my tiring legs.
Did I mention I am (was?) an inexperienced runner? Just a few steps after finishing, a stark realization overshadowed the sense of accomplishment. Without the body heat from running, I was going to freeze. The temperature had taken a major dive throughout the afternoon, and the tank top choice suddenly seemed a terrible idea. I'd either have to take the typical mile cool-down walk half-frozen with teeth chattering, or I'd need to suck it up and jog another mile more.
Despite my wobbly legs, I opted for jogging. A few slow steps in, a biker wearing a black hood approached. I hadn't much expected to see anyone (very few people were crazy enough to be out on the trail that morning), but I especially didn't expect to see Louie.
My husband had also ran his very first 20-miler. We left the house at the same time, but with his pace being more in 8 to 8:30 range, he would finish at least an hour before me. I would have expected him to be home, completely wiped and still trying to warm up, or anything except venturing back out into the cold.
But there he was, with a basket full of provisions – a slice of sesame bread smothered with pesto, a bottle of water, a mug of hot ginseng peppermint tea, a towel and a long-sleeved shirt. "I just knew you'd be freezing," he said.
As it turns out, the greatest surprise of the day was not that I'd been able to finish the 20 miles, but this kindest gesture.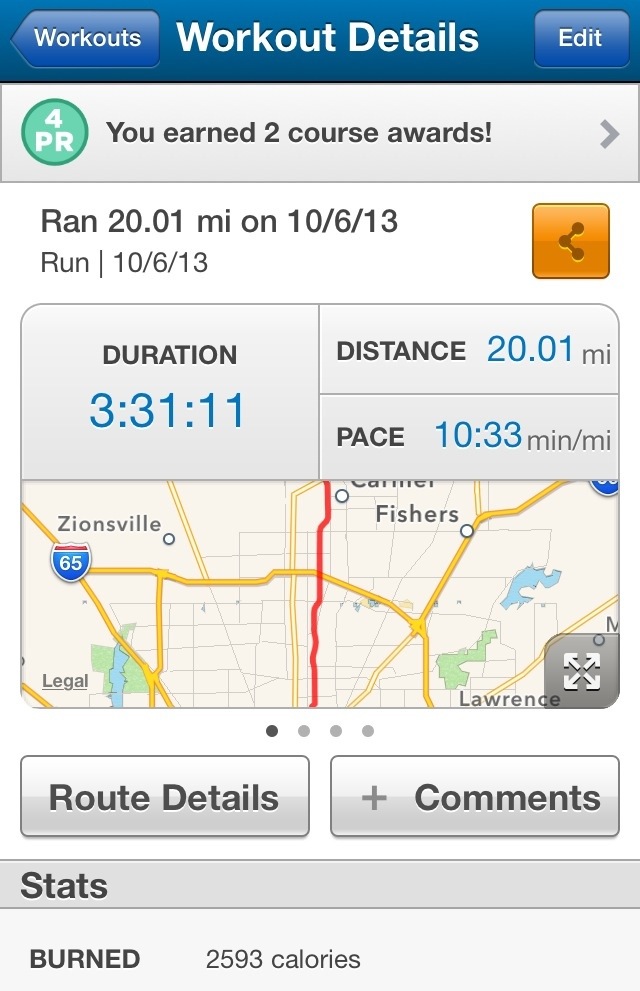 p.s. My phone didn't get waterlogged and I was able to track the whole run. I'm still proud of this run, perhaps more so than the eventual marathon finish several weeks later. But it may be that I remember this run most for that lovely act of kindness than the run itself.
This post is part of Think Kit by SmallBox
Today's prompt: "What completely surprised you this year? Was it good…or not so good? Tell us a story!"