I ate out at some fancy places throughout the year, but as the calendar winds down and I think back on it, some of my favorite dinners out were pretty low key, but interesting experiences.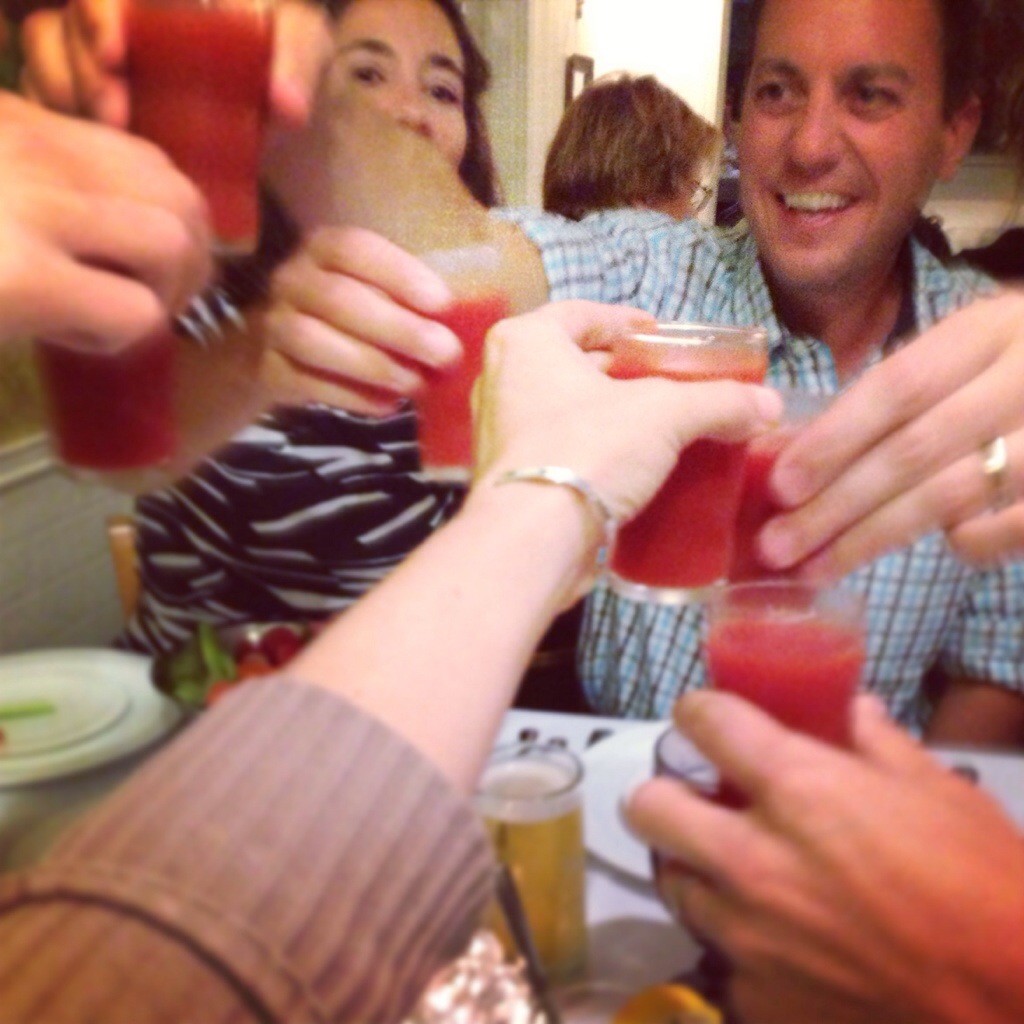 Holly Hock Hill on College Avenue is a must if you like fried chicken. It started out as a private country cottage, where its owners hosted occasional special dinners. 80 years later, they're still going strong, if a little bit trapped in another time. The female servers wear jumpers from another era, everything is lace and floral. For your leftover fried chicken, they'll provide the most charming doggie bag.
The fried chicken has a thick, crisp breading, and is served with a "salad" of iceberg lettuce and their house dressing, pickled beets, cottage cheese, a relish tray (whole radishes, baby carrots, celery sticks) and family style bowls of corn, green beans and mashed potatoes and gravy, plus biscuits with apple butter. And the strangest of all things – a small glass of tomato juice. We went with our Supper Club, and as you can see, we had a nice toast with the juice. The dinner is capped off with a single scoop of vanilla ice cream with a trio of sauces – chocolate, butterscotch or an electric green mint.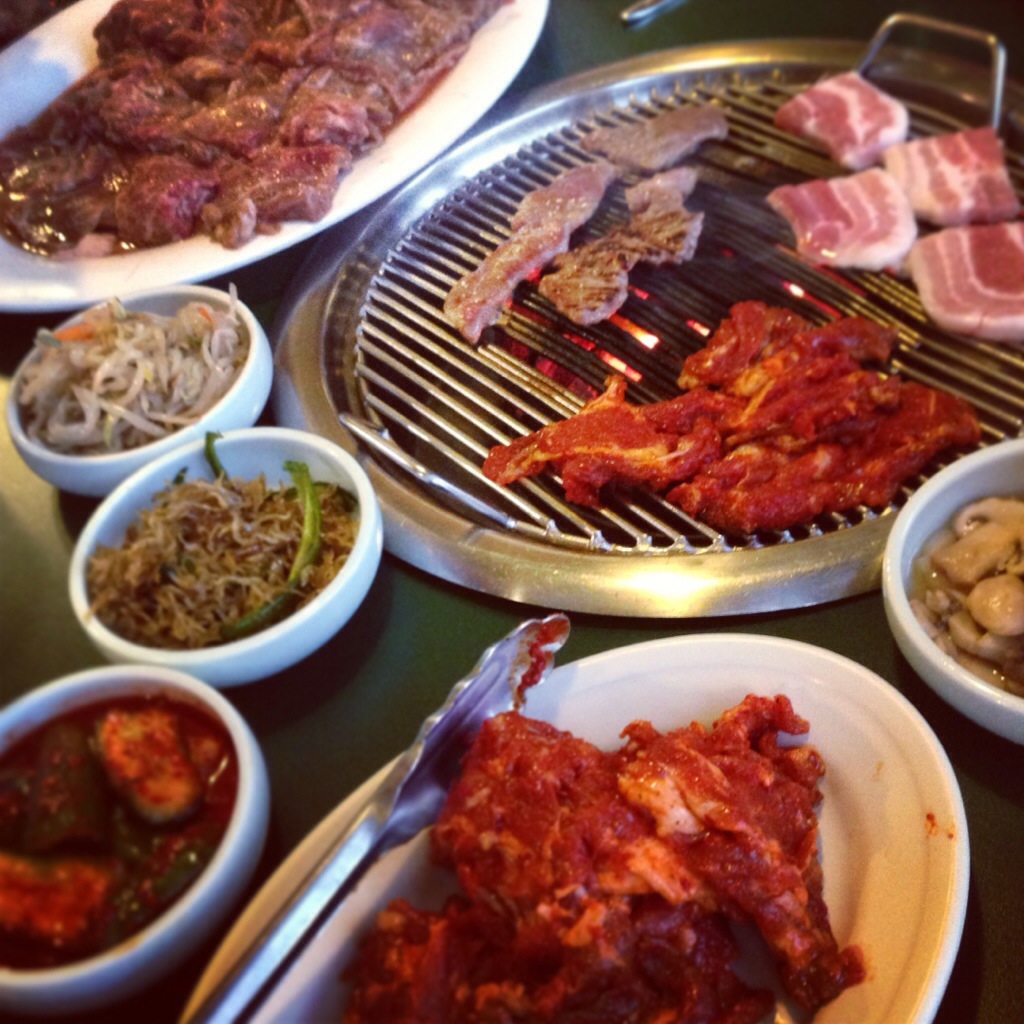 We went to Mama's House Korean Restaurant, another Supper Club pick, to try our hands at the grill tables. As we sat down, the chefs came rushing over with flaming coals to start our grill. It seemed edgy, dangerous to see those hot coals flash over our shoulders, into the pits. It's a lot of work, and even a little smoky to grill your own meat table side, but it's definitely a unique and fun experience.
The best part of this meal was we really didn't know what each side dish was, so every bite felt like a bit of an adventure. I still don't know what all we ate, but no matter. It was all tasty.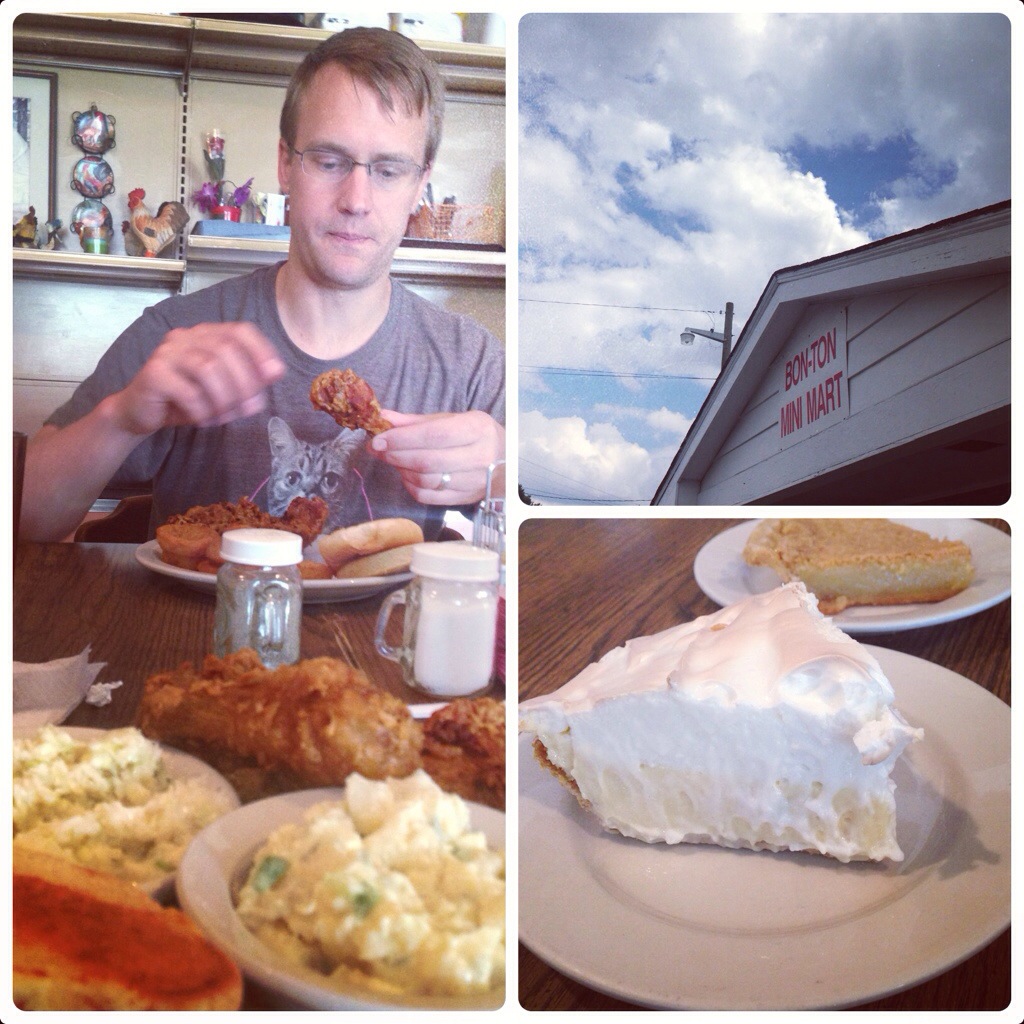 In a visit home to Evansville, we took a detour to check out a place I'd been hearing about for years – Bon Ton Mini Mart. Their fried chicken has been raved about by everyone from the New York Times, to the Travel Channel, to my own mother, who makes pretty amazing fried chicken herself. With an unassuming facade, an ac box hanging out of the window and a rough gravel drive, you'd never want to venture in based on looks alone. Inside, mismatched dining furniture and an odd assortment of roosters.
It's all a part of the experience though, and besides, the fried chicken is the real deal. Served piping hot, the chicken is extra crispy, juicy and salty, and has a bit of a kick from cayenne pepper. It's sort of an assault on your mouth, but in a good way. The ice box lemon pie was out of this world. Our server, and the daughter of the owner said, "Nobody makes pie like my mama."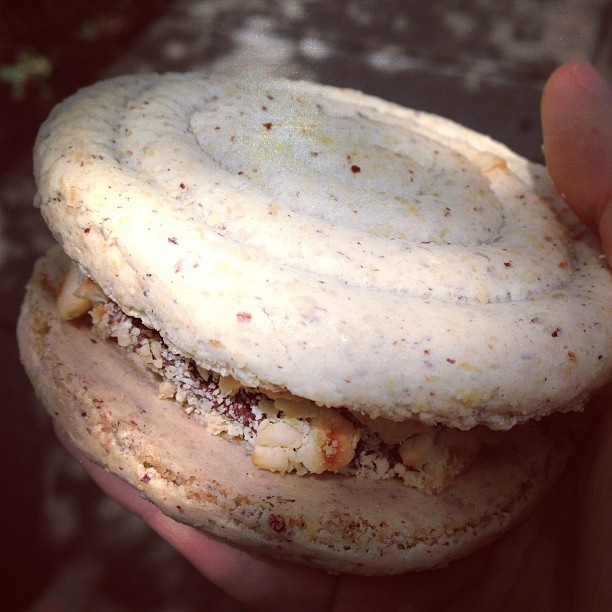 The North Market in Columbus, Ohio is chock full of delicious. We walked through slowly, and ate our way through the market. On our first trip, I was too stuffed by the time we made it to Jeni's Splendid Ice Creams, but I decided we had to go back a second time. I'd had Jeni's before, but I'd spied these macaron ice cream sandwiches in their display case and couldn't get it out of my mind. It was definitely worth the second trip. Consider yourself warned – it's big enough to split, even for those with a big sweet tooth.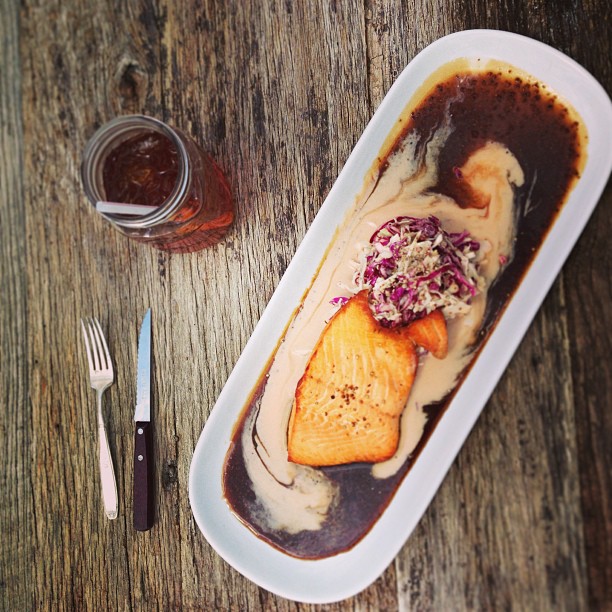 Locally Grown Gardens has become that place I go back to more than any other – an especially impressive feat, since they only have a few items on the menu, but still keep me coming back. Coming in at less than $13, this platter of grilled salmon with cole slaw is one of the best values I've found in Indy. For less than ten bucks, you can get what I can only all an intimidating mound of smoked pork on a thick slice of bread smothered in BBQ sauce.
This is not the place to go if you want fancy service. It's best to go on a nice night when you can sit on one of the giant wooden tables outside and watch people go by on the Monon Trail. Or, if you can go on a rainy night, sit in the library with the candles lit. Once at dinner we got to do just that, and watch the storm rage on through the window.
And don't even think about walking out of there without a slice of sugar cream pie. Or, better yet, buy a whole pie and take the rest home.
Note: I know the prompt called for one meal. I couldn't pick just one. it's amazing I was able to narrow it down as much as I did!
This post is part of Think Kit by SmallBox
Lifeline prompt: "Did you eat an amazing meal this year? What did you eat? Who was with you?"