Today marks the final day of daily blogging for Think Kit. It's been fun (sometimes – ha!), rewarding and challenging. Miraculously, at the end of it all, there are things about the past year I still haven't blogged about. I'll take this as a good sign of a full life.
Today, Think Kit asks what I'm most looking forward to next year, but I'm just not done yet on reflecting on last year. And so, I give you the top ten things I can't believe I haven't blogged about yet.
10. Nature can be crazy.
I had never heard of an anvil cloud before (although I think Russell refers to them in the movie "UP." I spied this very fine specimen on the way to Columbus, Ohio. It was a little unsettling, to say the least. Despite feeling a little nervous (Hey, are we driving into the end times here?) I was mostly in awe of it and the myriad surprises of the natural world.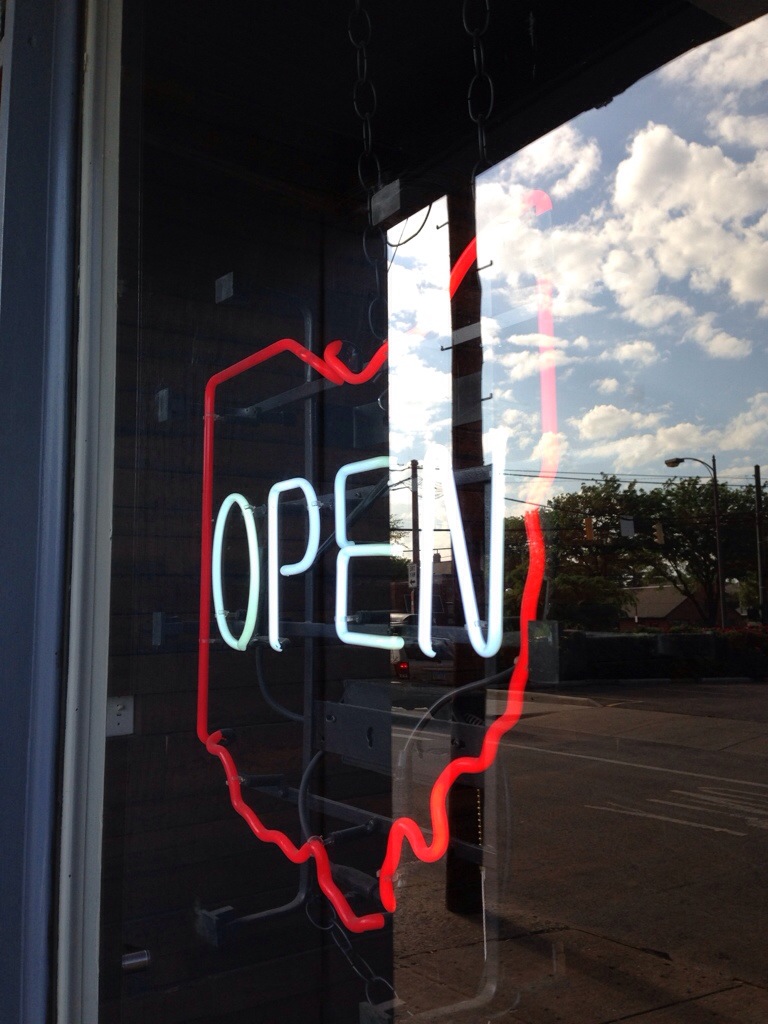 9. Local Love.
Speaking of Ohio, I got a different take on the local love movement I've watched thrive in Indianapolis. We visited Columbus, where Louie's two siblings live, for a long weekend. There's something different about visiting a place and staying with residents, rather than doing the hotel thing. We saw signs of Ohio pride and local love at every turn. Locally roasted coffee, distinct neighborhoods, a lively dining scene, signs like the one pictured here. I'm pretty taken with the idea that in cities all across America there are movements like this happening, people falling deeply in love with places. I hadn't really thought much about that until that visit to Columbus.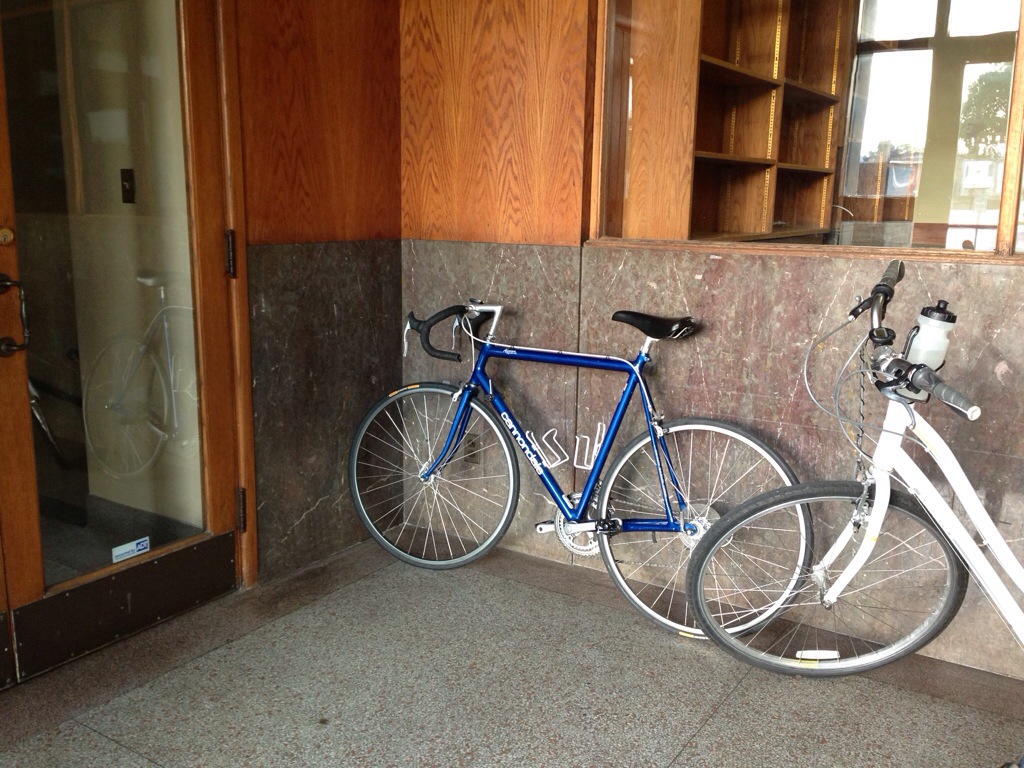 8. My bike got stolen. Twice.
The first time, Mayowa and I had our locks cut and bikes taken from the back of the SmallBox building in the middle of the night while we worked on the 24 Hour Web Project. I went and bought a new bike, and two months later, someone entered the SmallBox building during the middle of the day (on a Monday, during regular business hours, with 20 people working nearby!) and stole my new bike from our basement. I'd been parking it inside, thinking that would be safer. I decided I didn't want to waste a lot of energy complaining about it online, but I have been a bit heartbroken over it still. Writing about it here gives me a bit of closure. When I was searching my 2013 archives, I found this photo of my bike (the white one) parked in the SmallBox lobby with Mayowa's before they were stolen. The other – well, I hadn't even taken a photo of it. I'm planning to go bike shopping again this week, so hey – there's one thing I'm looking forward to in 2014. I wish I didn't have to do it again, but new bikes are fun, despite unfortunate situations requiring them.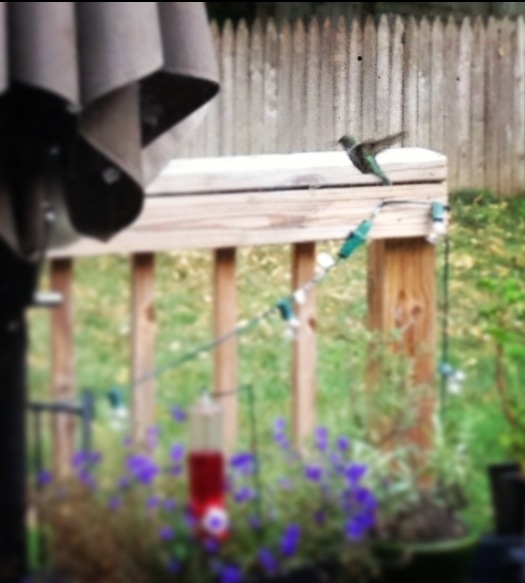 7. I bring all the birds to the yard.
I got some new hummingbird feeders this year, and really enjoyed seeing these little friends from our kitchen window. For Christmas, Louie said he wanted a regular bird feeder to attract birds year round. I was surprised how much fun I had shopping for them. Confession: I ended up with more than one. Okay, okay, So I bought five of them. Did you know there are really a stunning variety of types of bird feeders? Now you know. I'm pretty excited to get them all set up and see new life in the yard.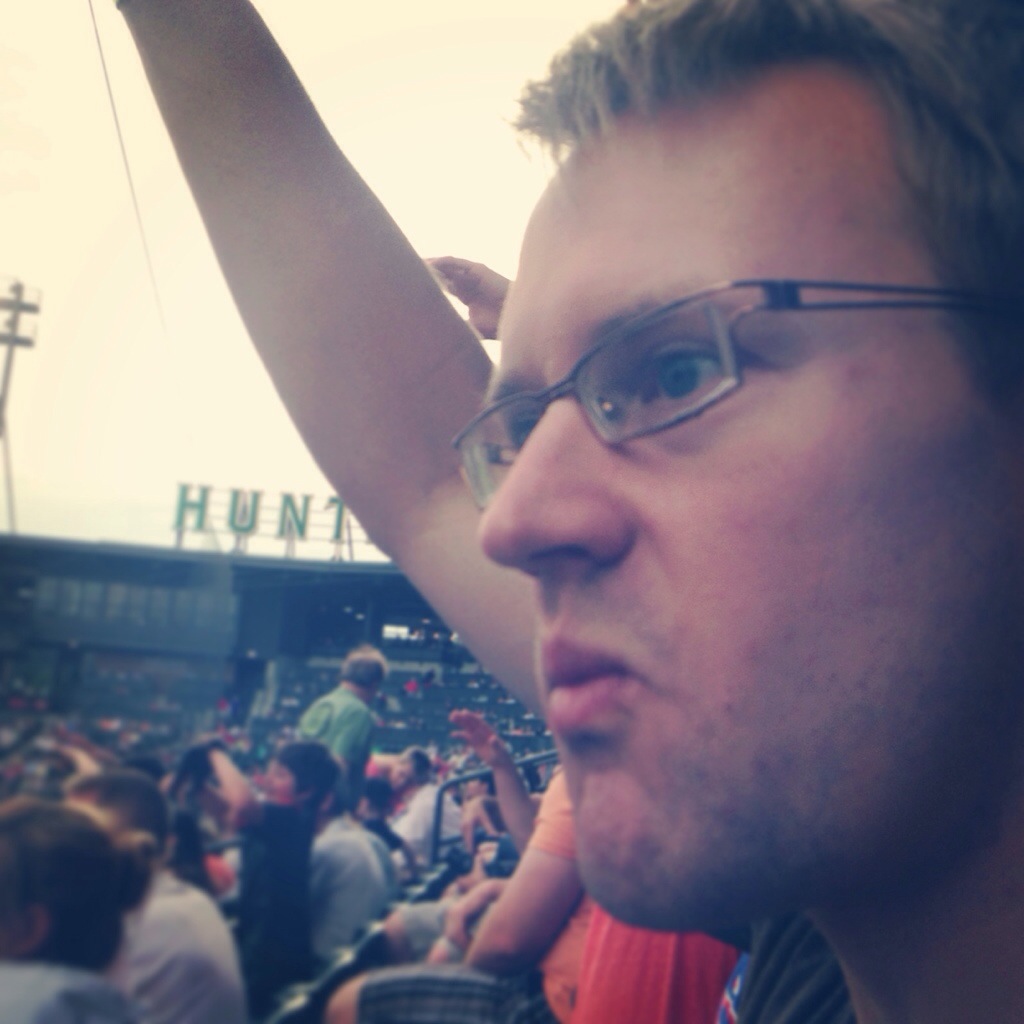 6. I really want to start a wave.
We went to a lot of baseball games this year. We ate nachos out of a helmet. We watched games in the rain. We saw Mark Prior pitch for the Louisville Bats (we lived in Chicago when he was in his prime with the Cubs, so that was pretty crazy to see). We attended Joe Morgan Day, which included the return of Pete Rose to the baseball field for the first time. And we went to a game in Columbus that had what I can only call (stealing from the Great Pumpkin) the most sincere wave. The people who started this wave were nearby, so we saw it in its humble beginnings, then in full stadium glory. After I snapped this wave action shot of Louie, I knew I had a new goal. I need to start a wave at some point in my life.
5. I fell in love with Broad Ripple Park and the White River.
Jon Rogers and Musical Family Tree headed up a summer music series called Listen Local in Broad Ripple Park. It was a pay-what-you-want benefit for the Parks Foundation. I volunteered at a couple of the shows, but there was plenty of time to just sit back and enjoy the scene too. It was incredibly laid back, sort of pastoral even, to see live music amongst the trees.
As a team perk for SmallBox, we rented the Tiki Barge (who knew this existed?! Amazing.) and cruised down the White River. We also sponsored the inaugural WARM Fest, which was put on it part to return to Broad Ripple's river roots. Dan Ripley, who spearheaded the whole thing, has some cool old photos and stories of when Broad Ripple was more like Coney Island, with a lively promenade and attractions along the riverfront. I didn't know much about that history until this year, and I definitely didn't appreciate Broad Ripple Park and the White River as much as I do now.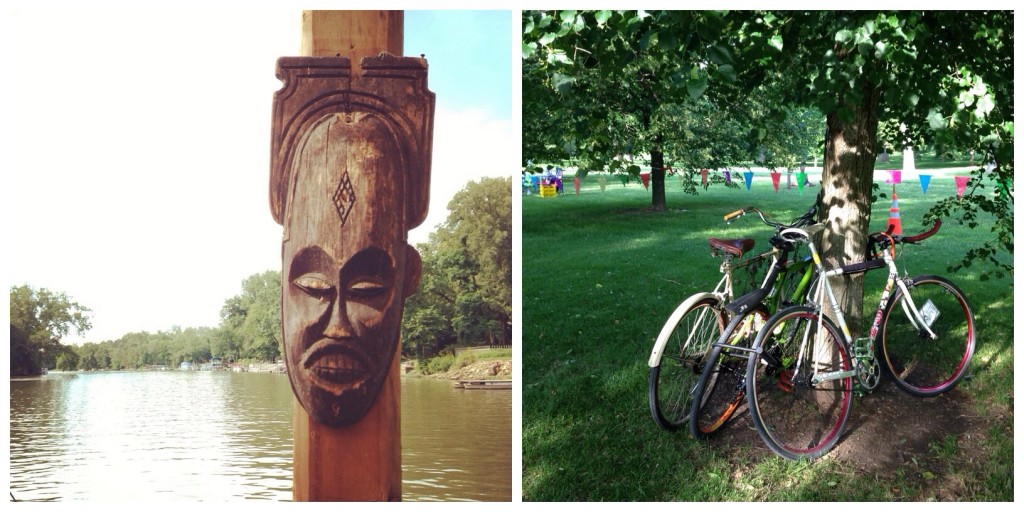 4. I met an internet-famous cat.
Mark that down as something I never thought I'd do. Louie and I both sort of fell in love with the magic that is Lil Bub. There was a screening of his movie and a chance to meet Bub in person (in cathood? how does one say that?) in Bloomington on Louie's birthday. Lest you think we're totally crazy – there was a lady in line ahead of us who drove six hours (six!) to meet Bub. The line to get in wrapped around the block, then around the next block too, creating a scene even the staffers seemed surprised by. The ushers kept popping out of the theater to snap photos with their cell phones. And this is where is gets weird. As we waited out turn, we watched as people exited the theater. They seem changed, or at least touched by a temporary happy innocence you might associate with children. I heard one person shriek, "I touched her!" It was pretty magical. Here's Bub getting a break with her owner, right before we got to meet her.
3. I did a 30 day yoga challenge.
I was running 25 miles a week, just starting marathon training, and ramping up for 10 day madness that is Indy Film Fest at the same time. In order to ensure total craziness/test what I'm really made of, I decided to jump in on Cityoga's 30 Day Challenge, in which you attempt 30 yoga classes in 30 consecutive days. I actually made it, and all I got was this t-shirt! Oh, yeah, and the total peace and calm that comes with all that stretching, practice and patience on the mat. This sort of got overshadowed by my running accomplishments this year, but I'm pretty proud of this too. They do this every June and July, and I'd highly recommend it.

2. Forever Home.
After saving for more than a year, we officially started our house hunt in October. So far we've only seen one house that matched all of our criteria and our budget. We may be looking for months to come to find the right one, but Louie and I are pretty set on finding the one, the forever home. We understand that one day life could take us away from Indy, but for now we're planning on being here for the long haul. And if that's in the cards, well then we want a house that will be everything we could ever need. Continuing this hunt is what I'm really looking forward to most in the new year. I'm crossing my fingers we'll find it by March or April.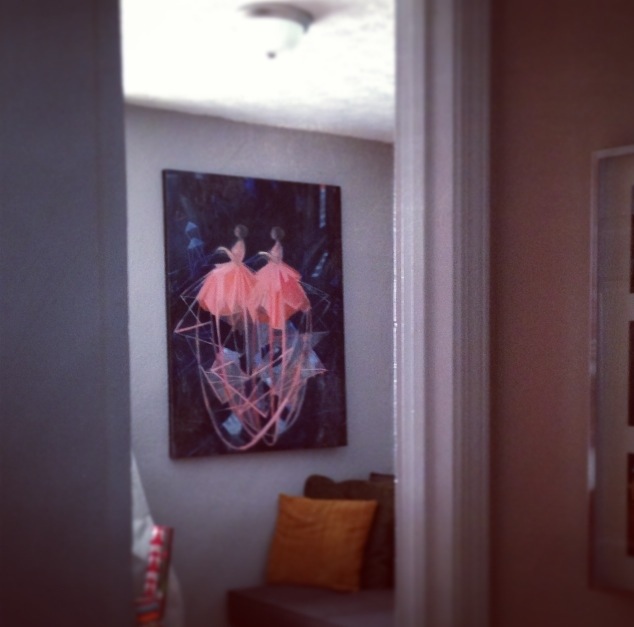 1. Five years.
Louie and I celebrated five years of marriage this October. We continued one of my favorite traditions of collecting "anniversary art." We have one piece for each year of marriage. When I saw this Kyle Ragsdale painting, it was love at first sight.
This post is part of Think Kit by SmallBox
Today's prompt: "What are you looking forward to the most about the next 365 days?" + Lifeline prompt: "Make a "Top 10″ for 2013! Choose your favorite moments, records, movies, sporting events, or any other item and compile a list. Make sure there's a #1!"