Today I was tasked with asking someone else about their favorite moment of the year. In the spirit of Think Kit, I decided I wanted to ask someone I met in 2013. I met Kirsten through work, when her company became a client of SmallBox.
Here are a few things to picture about Kirsten, if you don't know her: She brings a lot of energy to everything she does. She talks with her hands expressively and a lot. When she tells stories, she's detailed, animated. But I don't really have to tell you that – you can read for yourself in her account of her favorite 2013 memory.
A City That Holds Onto the Past by Kirsten Cuniffe
Remember that project we all had in 6th grade? The one where you have to ask your grandparents where they were, what they were doing and how they felt when various major historical events occurred? Most times when I remember that project I find myself wishing I'd asked my grandparents more questions, that I'd listened with greater intent as they answered. One of my favorite moments of 2013 was having my parents join me in New Orleans after a conference I attended concluded.
As we walked down Frenchman Street, drank Abitas on a porch in Uptown and gazed out trolley windows I had the chance to soak in my parents' recounting of their last trip to New Orleans – as twenty-somethings 50 years ago. They talked about the days when their favorite thing to do was find a hole-in-the wall with great jazz music. Ah! So my love of music is genetic.
My mom talked about being a young girl who had just received her associates degree, ready to take a career and travel with her other single girlfriends. They were so proud to be paying their own way – buying Hurricanes at O'Brien's in the very same spot where we stood this year. My dad spent most of the trip lamenting the fact that his favorite musician of all-time, Fats Domino, whom he'd sought out on his last trip to NOLA, had now quit playing shows in public.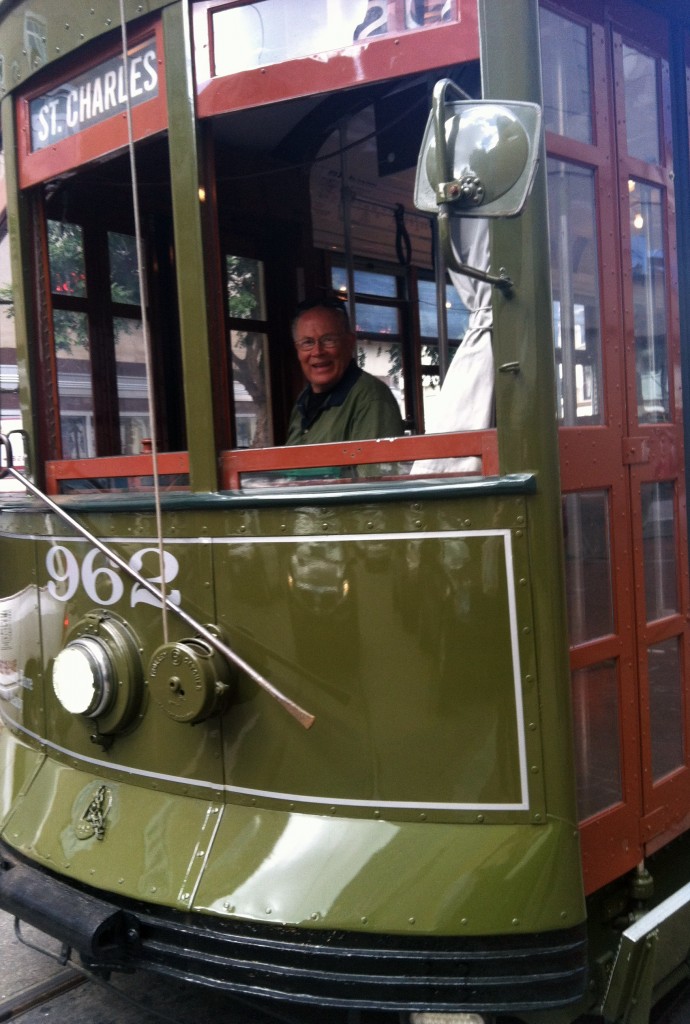 As it happened, Smokey Johnson, Fats' drummer, wandered out of his house just as we passed it during our Tour of Musician's Village. Most of the group was staring at Smokey. I looked to my dad, wondering how he would react. He looked at Smokey and then his gaze slowly went somewhere else, back to the last time he saw Fats and his group play. A one-sided smile made its way across his face. As he tuned back to the present moment, he turned to look around at our tour group, beginning to realize he was the only one in the group old enough to have truly seen Smokey's talent at its peak. He then refocused on Smokey, made eye contact and just barely whispered, "You guys were the best." Smokey smiled and looked down. I like to think he let his mind flash back to the past, just as my dad had. Smokey never said a word. He just shuffled off, hollering and entertaining our group as he made his exit.
I'm not sure what it was about that trip. Maybe just the amazing way that city holds on to the past. Or maybe it's the way my parents were talking about their single days before my brothers and I were born. Or maybe it's the fact that they're 75-years old and I realize that our time together might be limited. But ever since that trip I've been taking the time to ask my parents about their lives. Asking them to recount stories so that I'm positive memories are filed in my mind in just the right order. Whatever it was, I'm so thankful for that trip. And I encourage you to sit down with some folks who helped raise you and just listen as they talk about their lives.
This post is part of Think Kit by SmallBox
Today's prompt: "Interview at least one other person about their favorite moments of the year. Share what you heard."