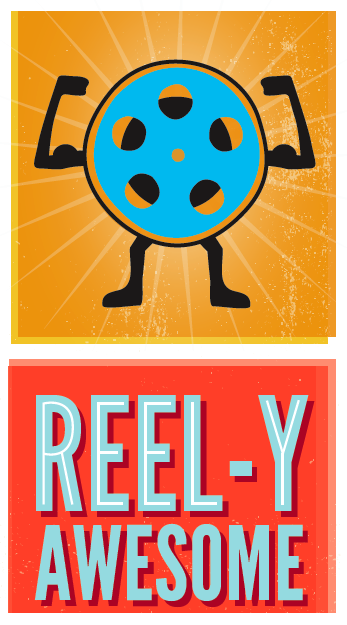 My love affair with movies started young. My mom loved watching old westerns, and I remember scraps of them as a sort of backdrop to my childhood. When I saw The Good, The Bad and The Ugly with Indy Film Fest a couple of years ago, I thought it was for the first time. After a few scenes, it all came rushing back, the movie I'd seen some thirty years before.
When we were very small, my sister Kelli and I thought we were sneaky, trying to cheat bedtime to watch movies. We even had a secret code for it – M-R-O, our hilarious attempt at adult strategy. We knew grown-ups spelled things out when they didn't want kids to understand what they were saying and we thought we could do the same in reverse. MRO, to this day, still means "stay up late and watch movies" in my family.
My dad took Kelli and I to our first films in the theater – The Dark Crystal and the re-release of Disney's Snow White around 1983. Soon after, we saw Jaws in 3D. We soaked up the good and the bad of 80s flicks, wearing out our VHS copy of Once Bitten with Lauren Hutton and a very young Jim Carrey. Until I was old enough to go out with friends on the weekend, every Saturday night was reserved for one of the cheesy horror flicks that my dad loved so much, followed by SNL.
In high school, I discovered Woody Allen and caught a rare foreign film screening of Like Water For Chocolate on what must have been the one weekend it screened in my hometown of Evansville, Indiana. I credit these, along with Kurosawa's Dreams, The Graduate, Harold and Maude and a few others for showing me what film can be.
Even with all of that, I'd never have guessed how much of my spare time would be invested in movies. I volunteered for the screening committee for Indy Film Fest a few years ago and it's been my cause of choice ever since. This year is kind of a big deal – it marks the tenth festival. As an all-volunteer organization, our board is feverishly planning events, rounding up volunteers and seeing to all kinds of details to to make this year bigger and better than ever. After a few years of focusing on marketing, I'm shifting toward fundraising for the organization.
I'm still determining my exact goals, working with the board president and the rest of the team to understand what we need for this year and beyond. Our three to five year plans call for major growth. I admit, I'm dreaming big, like HOLY CRAP, this could mark my biggest professional failure EVER sort of big.
But I also know our attendance and response to film experiences like Roving Cinema and movies at Sun King Brewery have grown tremendously. There's a passionate tribe of movie lovers that keep showing up, talking movies with us, answering the call when we seek support.
Putting this blog post out into the world is my first step toward what will be a banner year of fundraising for Indy Film Fest. Wish me luck!
Better yet, if you want to help build something amazing for film lovers in Indy, let me know (you can email me here). I'd love to share our vision with you. If you want a few details about corporate support, here's an overview of some of our opportunities. We're also trying to raise a little cash to kick start our 2013 programming. Individual donations can be made here.
This post is part of Think Kit by SmallBox
Today's prompt: What's one step you can take to support a goal you have for 2013?